---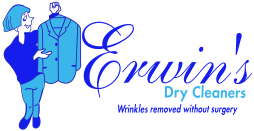 Erwin's Dry Cleaners provides dry cleaning services for all commercial, industrial, health care, and household laundry. Erwin's caters to their customers needs by offering alterations and repairs, same day service, and free pick up and delivery.
585-425-3480
Hours of operation:
Monday - Friday: 7:00 a.m. - 9:00 p.m.
Saturday: 8:00 a.m. - 6:00 p.m.
Sunday: noon - 5:00 p.m.
---